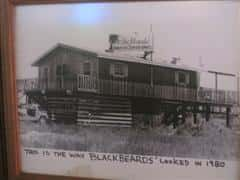 39TH SEASON OF SERVING
SPI GUESTS & RESIDENTS!
Blackbeards' was opened in the late spring of 1978 with the idea, " If you can make and serve a good burger and a cold beer, you might do enough business to be able to live in a beach town."
After a quick remodel of a 2/2 beach house and the addition of a deck the opening was in June with 24 chairs and4 barstools inside and seating for about the same outside on an open deck Even before the opening a volleyball court had been installed in the sand lot next door and many idle hours were spent there the first year.

Three years later the confluence of Hurricane Allen , the dismantling of an old building and a new found determination, the first steps were taken towards the restaurant of today. Major additions took place next in 1986, then again in 1990 with the final addition of the outside patio in 1992.
The menu like the restaurant grew through the years from burgers, salads, and sandwiches, to daily lunch specials, and on to seafood platters. Today you will find our chalkboard specials are no longer on actual chalk boards either, but on lighted boards with our featured dinners.

One of our earliest ventures into evening specials was the ribeye steak sandwich. It was introduced as an incentive to watch Monday Night Football and was quickly extended in two directions. Mondays became steak night with the addition of a T-bone and N.Y. Strip steak, and the Ribeye sandwich became a locals favorite "off "the menu item.

Several of our hits as a restaurant came as mistakes forced our hands to a new direction. Our Chicken Fried Steak and onion rings are two of those successes. From the start we found out that anything we can make fresh in our own kitchen or prep room should be, so as you dine with us you can know things like the tarter sauce and the onion rings, we're made fresh today. The steaks are cut in the kitchen daily and the seafood and chicken fried steaks and chicken get breaded and cooked after you order.
For the first few years we served only beer and wine with our meals but we found out our customers really liked Margaritas also, so we got our full liquor license and our Margaritas are one of our customers favorites to this day.

We would like to invite each of you to come when you can.